Hello everyone.
I am a computer geek, with a job in computer geekery (supercomputing software if you must know), who tries to be a normal person once in a while.
I live in Cambridge (the real one, in England), but I was born and grew up in Italy. I am an FSF Europe Fellow, I try to participate as much as I can in FOSS related events and I try to contribute as much as I can to the community. I have a passion for building robots and normally blog about things that don't interest many people.
Other passions include golf, music, airsoft and beer. Feel free to browse around and look for me on Facebook.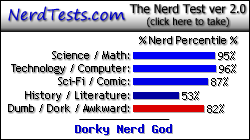 New blog
I have decided to move my blogging activities to wordpress!
From now on you can find my blog at
blog.nitbix.com
Aluminum macbook...
As many of you already know, I bought an aluminum macbook (yes the new one) a couple months ago and have been using it as my primary machine ever since. Even now I'm writing this on it.
My first impression was great, as we all know that it looks extremely sexy, and Apple knows how to do design.
Then I started using it. Leopard is great. A good OS overall, and since it's unix-based it means I get to do many of the things I need almost straight out of the box (or with small tweaks). I like the new casing, and I often find myself just running my fingers on it, cause, well, it feels GOOD.
That said, battery life is quite bad, I can get about 3 hours when I'm really lucky and I have to run at minimum brightness. Compared to the 6 of my iBook (when it was new, mind you) that is a huge difference. Then there's build quality. To be honest, apart from the main features (unibody, multitouch and glass screen) the rest is the usual Rotten Apple. The superdrive is noisy as always, the keyboard feels weird, and just recently my right arrow, right shift key and right alt started getting stuck and clicking noisily. Which is where the real trouble starts. You see, this thing is made of one single piece, so you can't pull out the keyboard and clean it. No sir, you have to pull out every key one by one. Not that that solved the issue either. It seems to be the mechanics of the keys. The "Genius" at the Apple Store will be able to tell me that because they're built by overworked children in the people's republic they sometimes screw things up. The glare on the screen is bearable and I have to admit it's quite bright, but you can see dirt mount up on it pretty fast.
The multitouch trackpad is very cool and sometimes useful. But other times just plain annoying. I don't find myself zooming or rotating that much, and when scrollingweb pages , I sometimes end up with smaller fonts. Other times, if I rest my thumb like you would do on a normal trackpad, I end up with a right click. Not that it's very messy, but sometimes it does get on my nerves.
The machine is a lot more robust, and the graphics card does a pretty good job, but sometimes I wonder if we could get something that's been thought through a little bit more. After all, I have spent a considerable amount of money on it...
4 Novembre
C'è da dire che la vittoria di Obama, nonostante abbia dato l'impressione di essere una vittoria schiacciante a causa del fallatissimo metodo dei collegi elettorali, ha in realtà avuto solo il 52% dei voti. Quindi c'è un buon 46% circa (il 2% mi pare sia andato a indipendenti) che non ha ancora capito un cazzo dalla vita, e ha deciso di votare quello che in effetti sarebbe stato un Bush III con l'aggiunta di una VP rincoglionita e un nonno che non sa nemmeno dove minchia abita.
E io le elezioni le ho viste dall'interno, in uno stato dove l'80% dei voti è stato REPUBBLICANO. Ma rendiamoci conto.
Spero solo che anche quest'altra metà degli americani si renda conto in fretta che la religione e la paura non sono veicoli sani per la politica, e non sono fattori che dovrebbero essere presi in considerazione.
Vorrei che anche il resto di questa America si svegliasse. Quegli stati che non vede nessuno, ma che in realtà sono il cuore della nazione. Il Tennessee, lo Utah, il Nevada, il Texas e molti altri. Se ci pensiamo su, l'America che vede il mondo è l'America migliore: New York, Boston, Chicago, California. Quella che in realtà non rappresenta per niente il resto del paese.
Auguro di cuore a tutti quegli Americani che non lo hanno ancora fatto, di aprire gli occhi prima che sia troppo tardi.

V
Good evening, London. Allow me first to apologize for this interruption. I do, like many of you, appreciate the comforts of every day routine- the security of the familiar, the tranquility of repetition. I enjoy them as much as any bloke. But in the spirit of commemoration, thereby those important events of the past usually associated with someone's death or the end of some awful bloody struggle, a celebration of a nice holiday, I thought we could mark this November the 5th, a day that is sadly no longer remembered, by taking some time out of our daily lives to sit down and have a little chat. There are of course those who do not want us to speak. I suspect even now, orders are being shouted into telephones, and men with guns will soon be on their way. Why? Because while the truncheon may be used in lieu of conversation, words will always retain their power. Words offer the means to meaning, and for those who will listen, the enunciation of truth. And the truth is, there is something terribly wrong with this country, isn't there? Cruelty and injustice, intolerance and oppression. And where once you had the freedom to object, to think and speak as you saw fit, you now have censors and systems of surveillance coercing your conformity and soliciting your submission. How did this happen? Who's to blame? Well certainly there are those more responsible than others, and they will be held accountable, but again truth be told, if you're looking for the guilty, you need only look into a mirror. I know why you did it. I know you were afraid. Who wouldn't be? War, terror, disease. There were a myriad of problems which conspired to corrupt your reason and rob you of your common sense. Fear got the best of you, and in your panic you turned to the now high chancellor, Adam Sutler. He promised you order, he promised you peace, and all he demanded in return was your silent, obedient consent. Last night I sought to end that silence. Last night I destroyed the Old Bailey, to remind this country of what it has forgotten. More than four hundred years ago a great citizen wished to embed the fifth of November forever in our memory. His hope was to remind the world that fairness, justice, and freedom are more than words, they are perspectives. So if you've seen nothing, if the crimes of this government remain unknown to you then I would suggest you allow the fifth of November to pass unmarked. But if you see what I see, if you feel as I feel, and if you would seek as I seek, then I ask you to stand beside me one year from tonight, outside the gates of Parliament, and together we shall give them a fifth of November that shall never, ever be forgot.
The reason why I say Italy doesn\'t work...
read here